We are the Grigorakis family
We, the Grigorakis family, are a traditional Cretan family of small-scale farmers and have been devoting ourselves to olive oil and raisin production for three generations and counting.
The family is made up of my parents Eleni and Kostas Grigorakis and my siblings Katerina, my twin brother Babis, and me, Michalis.
While my parents Eleni and Kostas would always care for their farm and still do, it was important for them to provide us children with the opportunity to study. It goes without saying, however, that we and other family members continued to lend a hand! And that's where we are at today, but with a few more family additions.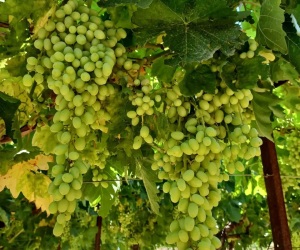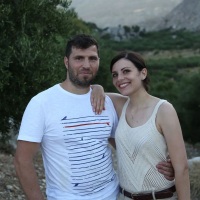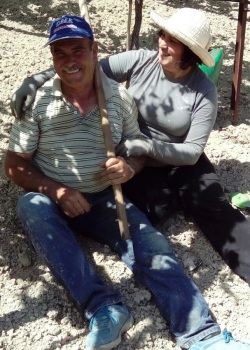 All spouses have now joined the team, and even the next generation loves playing in the fields and helping out where they can. To create something as a family and look back at the achievement when the work is done? That creates an invaluable connection.
Like all small-scale farmers in our mountain village Kroussonas, we have had to trade our olive oil and raisins to wholesalers in the past. And that's where we, the fourth generation made up of myself, Michalis, and my wife Michaela, begin a new chapter.
In February of 2022, we founded KROUSSOS – the taste of Crete to bring our carefully and lovingly crafted products to Germany, our second home. Here, we want to share them with all lovers of Crete.
Our Story
Kroussos – a new generation
Kroussos, founded by Michalis and Michaela, is synonymous with the family Grigorakis. Together we've been dreaming about expanding our family operations in Crete and bringing products from our sunny island to more people's homes. With great knowledge and passion, our family has been farming extra virgin olive oil and raisins for more than 40 years.
Unlike most of the family, we reside in Germany, our home away from home. For years, we were lugging litres of olive oil back to Brühl for our own use. And year after year, we were asked to bring more by friends and acquaintances who couldn't get enough of it. As this demand for high-quality olive oil with a traceable origin grew, we decided to found Kroussos.
Splitting our time between Brühl and Kroussonas, we are able to help during each harvest season. And every time it's exciting to see a whole year's worth of labour come to fruition.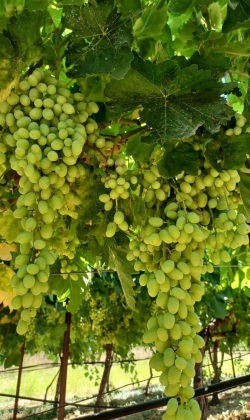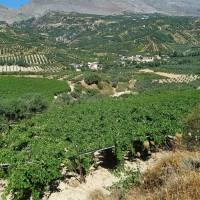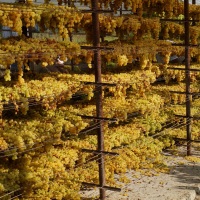 We want to bring our high-quality products to your kitchen and help you enjoy a piece of Crete!!
With Kroussos, we want to bring our high-quality products to your kitchen and help you enjoy a piece of Crete with your entire family. Our olive oil and raisins go through an exclusively in-house production process. In addition to that, we are working with a team of small-scale farmers to bring even more delicious products to Germany.
Explore our line of products and enjoy a piece of Crete!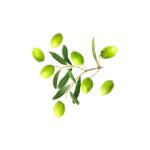 Our pine and thyme honey comes straight from the wild Cretan mountains right next to our olive grove.
Responsible is a family friend who is a second-generation beekeeper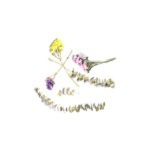 Together with the Fragiadakis family, we have curated a rich assortment of wild Cretan herbs:
Our products range from oregano and thyme to teas made from sage and dittany.
KROUSSONAS
our village in the mountains
Kroussonas
Our village in the mountains
Our village Kroussonas (Krousónas) is idyllically nestled in the foothills of the Ida Mountains at an altitude of 500 meters. It's located 21.8 kilometres away from Heraklion, the island's capital.
Of the roughly 2,000 inhabitants, a large portion spends their days farming. These families have a long history within the town and their trade of olive oil, grape or raisin production.
The village and its surrounding olive groves are ideally located for olive oil production: The higher the altitude of the grove, the less it will be pestered by the notorious olive fruit fly. That means we can completely abstain from the use of pesticides.
Like the entirety of Crete, Kroussonas enjoys a Mediterranean climate with warm summers and mild winters. In contrast to the coastal region, however, our mountain range does see some snow between February and March. So early on in the year, mount Ida greets visitors of Crete with its white mountaintops.
The mountainous and rocky terrain can make work quite difficult for the farmers of Kroussonas. Mechanical reapers cannot be used, which is why all the produce is still harvested by hand. The small-scale farmers are immensely proud of this manual labour, as it yields a product that is high in value for themselves as well as the consumer.
All the love and care the families pour into cultivating the olive groves and vineyards can be savoured and felt in the olive oil and raisins. Our mountain town values solidarity, teamwork, and the readiness to help others above all else!
Brühl
The beautiful castle town of Brühl is, next to our Cretan mountain village Kroussonas, our home.
I, Michaela, grew up here in Brühl-Kierberg and for Michalis it has now also become a second home.
Therefore, it is a great pleasure for us to bring all the great products from our Cretan home to our home in Brühl and thus to give all the people of Brühl a Cretan joy.
We are proud Brühl-Cretans and are happy to be able to connect a piece of Crete with Brühl with our delicious olive oil, aromatic herbs and much more.